Purpose and Goals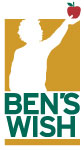 The goal of Ben's Wish is to assist our local communities fight Food Insecurity issues.
Hunger is a thief that robs families of their security and children of a chance for physical and mental development. Without the proper nutrition no child can focus on school, play sports well, or develop their full potential.
By bringing together communities and organizations we can deal with the needy and Food Insecurity issues around us.
Communities hold parades, fireworks displays, and many other social events. Many of these events have no cost of admission. Why not make use of these events to bring awareness to the needy and offer help?
Schools provide assistance to children during the academic year. This leaves a gap over weekends and during summer breaks. What can be done to help during these times?
Ben's Wish provides assistance with the help of community volunteers. Our program is involved with three primary efforts.
Food Drive Collections to support local food pantries.
There are many more food pantries than people generally suspect. These pantries are the year-round first line of defense helping families to fight Food Insecurity.
Weekend Backpack program
Children are the future. We view their success as the success of every community. On weekends, children may be required to fend for themselves. We supply nutritional food packs to needy children during the school year so they can return to school ready to study.
Educational Activities
Children have compelling stories. Through art, essays, and digital media, students have shared their view of poverty and hunger issues around us. Local media, museums and galleries can share these stories. Educating the local community of these far reaching issues is a primary activity to finding solutions.
Coordination of these efforts cannot be done without the help of many. Volunteers and organizations need to be mobilized to enact these simple plans. Your efforts and involvement is critical to resolving Food Insecurity issues around you.
Together we can light the promise of Ben's life. We can reach out to each other, to show that none of us hurts or is hungry.
Sincerely,
Peter and Becky Delain